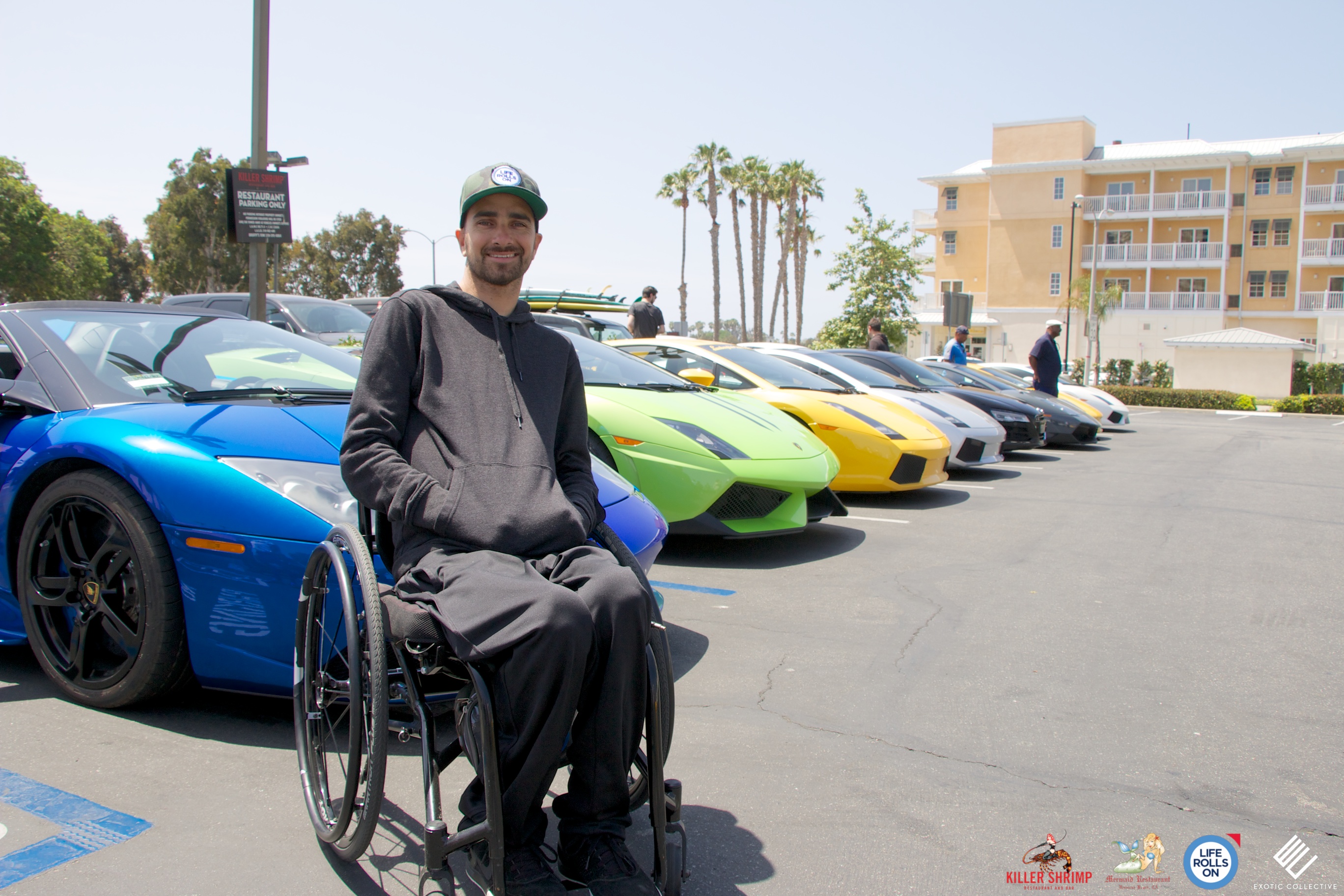 On Sunday, May 18th Killer Shrimp Marina del Rey, The Mermaid Hermosa Beach hosted an amazing Exotic Car Charity Run with Exotic Collective to raise funds and awareness for Jesse Billauer's "Life Rolls On" Foundation. As the sun rose on this very special morning, millions of dollars in Exotic Cars from across Southern California converged in the parking lot of Killer Shrimp Marina del Rey to meet Jesse and sit down for a light breakfast looking over the beautiful Marina. Soon after breakfast, the loud rasps of the exhaust wailed down Admiralty Way as the participants headed to The Mermaid in Hermosa Beach to enjoy the beautiful beach weather, fantastic food and display these automotive masterpieces for all beach-goers to enjoy and photograph for the day. The event was a great success and we are happy to be able to raise awareness and funds for this tremendous foundation. www.liferollson.org
What makes this charity event so special?  "Life Rolls On" founder Jesse Billauer became a quadriplegic at age 17 from a spinal cord injury suffered in a surfing accident in Malibu. Since the accident, he has made it his mission to enhance the lives of other young people in similar situations. He is the motivational force behind LRO's ability to empower thousands of youth affected by spinal cord injury to pursue active, productive and fulfilling adult lives.
Life Rolls On" Mission Statement: Life Rolls On Foundation (LRO) is dedicated to improving the quality of life for young people affected by spinal cord injury and utilizes action sports as a platform for inspiring the infinite possibilities beyond paralysis. In addition to producing unique quality of life programs, LRO fosters spinal cord injury awareness, and offers outreach to individuals and their families at the onset of injury.
Starting Location:
Killer Shrimp
4211 Admiralty Way
Marina del Rey, CA 90292
Ending Location:
The Mermaid
11 Pier Ave
Hermosa Beach, CA 90254
About Life Rolls On: Life Rolls On is a non-profit organization that inspires others to see the boundless possibilities beyond paralysis. Established in 2002, LRO's signature adaptive surfing program, They Will Surf Again, has grown into a catalyst of hope for thousands of individuals throughout the world. For more information please visit: www.LifeRollsOn.org
About Killer Shrimp: The Killer Shrimp brand has an over 25-year history of success serving its signature Killer Shrimp secret family recipe. Loyal customers have lined up, night after night to enjoy fresh shrimp cooked to order in the Killer Shrimp luxurious spicy sauce and fresh cut French bread for dunking. Killer Shrimp is located right on the beautiful waterfront of Marina del Rey, a new location in the historic downtown area of State Street in Santa Barbara and an upcoming location in Hermosa Beach. Expanding on the original Killer Shrimp dish, we also offer mouth-watering fresh seafood, steaks, salads, soups, desserts, signature cocktails and a slew of amazing appetizers, all of which are prepared with an irresistible combination of flavors and spices. The wait-staff, known for their edgy style, tattoos and stellar service, remind fans that the Killer Shrimp experience is truly irresistible for lunch, dinner and our daily happy hours. For more information please visit:  www.KillerShrimp.com